Knowing
Theological Competence
Lectures, seminars, exercises and projects according to the main disciplines:
Old Testament

New Testament

Church History

Systematic Theology

Practical Theology

Christian Education

Church Music

Missiology

Counseling
Language courses (including reading) in the biblical languages of Hebrew and Greek
Lectures and exercises in the areas of Psychology and History of Philosophy
Being
Personal Competence
Weekly class tutorial as well as devotions and cell groups
Personal mentorship sessions between the student and instructors
Evaluation of the student's personality through reports given by the mentor in the student's place of internship
Living and ministering together as students of an intercultural community (including practical tasks such as kitchen duties etc.)

Weekly ministry by the students
Doing
Competence in Actions
Church ministry experience before studies begin
Field ministry in a church alongside studies
Practicum

Professional Internship

Sermons accompanied by an evaluation by a lecturer through a personal conversation
Devotions, Services etc.

Outreaches to local churches and non-denominational events in teams accompanied by an instructor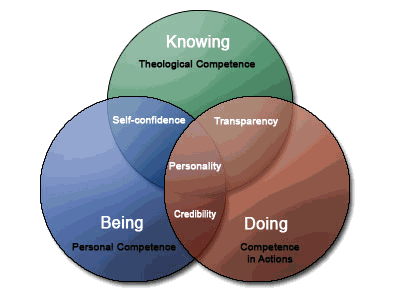 Theological Competence
Theological education at ETS is designed to provide knowledge and skills that enable students to reflect on the faith according to historical, linguistic, systematic and practical aspects. For this purpose, there are daily classes in the particular subjects.
Personal Competence
Another objective of the formation at ETS is to promote spiritual, social and character development. Prayer meetings, cell groups and the mentoring program contribute to this in a special way. Last but not least, communication skills, a sense of responsibility and leadership skills are fostered through living together as a school community, which includes practical assignments for each student.
Competence in Actions
Opportunities are provided for professional practice in pastoral ministry and in other areas of work in the church, society and mission.
Practical theological subjects, internships and the joint organization of worship services, devotions, prayer and fasting days, etc., provide the students with the key competencies that are indispensable for the ministry
.